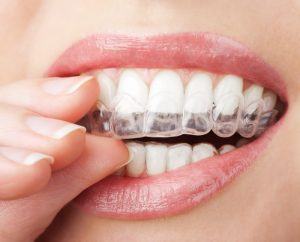 The need for braces and other orthodontic treatments has traditionally been associated with kids and adolescents in their early teens. Now, however, more adults than ever before are seeking orthodontic care to correct alignment issues and enhance the overall function and appearance of their teeth. In fact, studies estimate that almost one fourth of all people who get braces are adults.
Perhaps one of the biggest reasons for this spike in orthodontic popularity among adults is the variety of treatment options now available. No longer do individuals have to endure the inconvenience, discomfort, and appearance of traditional metal braces. For adults looking to straighten their teeth as comfortably and discreetly as possible, our New Jersey dentists offer two advanced orthodontic solutions:
Both ClearCorrect™ and Six Month Smiles® offer numerous advantages over traditional metal braces, including increased comfort, fewer office visits, and a potentially shorter treatment period (approximately one year for ClearCorrect™ and about six months for Six Month Smiles®). In addition, the ClearCorrect™ aligners and the Six Month Smiles® braces are designed to be practically invisible, making both orthodontic solutions very discreet.
If you are interested in orthodontic treatment and would like to find out if ClearCorrect™ or Six Month Smiles® may be right for you, please do not hesitate to contact our practice today. One of our experienced dentists will be happy to assess your unique needs and recommend an appropriate treatment plan.