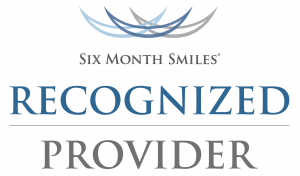 A new way of straightening teeth can give you a beautiful new smile in about six months. The Six Month Smiles® technique utilizes clear braces and less forceful energy to move the teeth into the desired position, giving you a more comfortable experience and significantly reducing the time it takes to deliver effective results. Our New Jersey cosmetic dentists offer this innovative orthodontic treatment right here at Imagine Advanced Dental Arts.
Please contact us today to find out more about the Six Month Smiles® braces technique.
A New Way of Straightening Your Teeth
Traditional braces have been an effective method of straightening patients' teeth for decades. However, there are significant drawbacks to wearing braces. Metal braces can not only be uncomfortable, they can also make you self-conscious every time you smile. Plus, they often take at least a year or two to have the desired effect. Six Month Smiles® is a new orthodontic treatment that can cut the time it takes to straighten your teeth by half, or even more. The braces themselves are clear and less noticeable, and the technology in Six Month Smiles® uses less force to move the teeth, which can make the process more comfortable.
There are numerous benefits to having your teeth straightened with the Six Month Smiles® technique, including:
Less time between placement and removal of the braces (usually only six months)
Clear braces and tooth-colored wires
Less force used by the braces while shifting the teeth into straighter position, helping you experience greater comfort
Typically less expensive than orthodontic treatment with traditional braces or aligner therapy
The Six Month Smiles® technique aims to give you less treatment time, greater comfort, and treatment that is less noticeable than metal braces.
How the Six Month Smiles® Technique Works
Begin smiling with confidence in as little as six months.
Advanced technology in dentistry and orthodontics makes it possible for the Six Month Smiles® technique to straighten your teeth in less than half the time it takes for traditional methods. Using special components like wires made out of tooth-colored, biocompatible nickel titanium, Six Month Smiles® braces can move your teeth more quickly. The process involves no added risk of root damage or other issues that are associated with long-term orthodontic treatments. In fact, the Six Month Smiles® technique actually moves your teeth into better position using a low amount of force. The state-of-the-art design and components of the treatment simply allow safe teeth straightening in a reduced amount of time.
Please contact Imagine Advanced Dental Arts for more information on this innovative new orthodontic technique. With Six Month Smiles® your teeth can look straighter and more beautiful in a matter of months!