For a variety of reasons, teeth can sometimes be lost or damaged beyond repair, necessitating extraction. Dental implants offer an effective and permanent replacement for missing teeth, ultimately giving you an improved dental aesthetic and better function while chewing and speaking. Our skilled dentists have extensive training and experience in replacing teeth with dental implants, and they have used this advanced option to help numerous patients at our practice smile with confidence once again. By customizing treatment to meet your specific needs and goals, our team can do the same for you.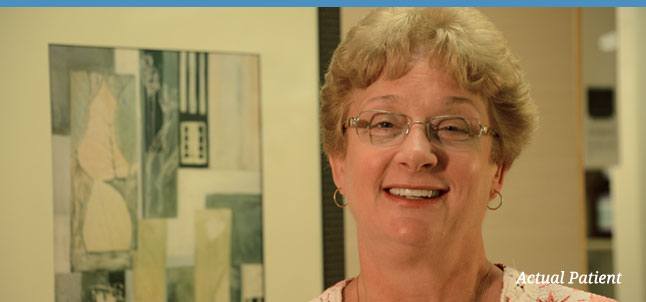 Replace what's been lost and brighten your smile with natural looking results!
Dental Implant Patient Experience
Benefits of Dental Implants
For qualified patients, dental implants are considered the premier treatment option for replacing missing or severely damaged teeth. Key benefits of this restorative dentistry technique include:
Improved chewing, biting, and speaking
No movement or irritation along the gumline
No additional maintenance apart from regular brushing and flossing
Prevention of future issues related to missing teeth
Long-lasting, natural-looking results
An overall smile enhancement
Dental Implant Candidates
Good candidates for dental implants typically include individuals who:
Have one or more missing teeth
Want a longer-lasting, more stable alternative to partial or full dentures
Have a sufficient amount of jawbone density to properly anchor the implant(s)
Do not have any medical issues that might prevent proper healing after implant placement
During a consultation at our practice, our dental team can perform a comprehensive assessment to determine whether or not you would be a good candidate for dental implants. For patients who do not have a strong enough jawbone to support the implant, there are various alternative dental treatments that can provide effective results, all of which will be discussed in full detail.
How Implant Dentistry Works
The dental implant procedure involves a thin titanium rod being placed into the jawbone in the area of the missing tooth, where it will gradually fuse to the bone. During this integration process, temporary bridges or crowns can be affixed to provide a natural appearance until fusion is complete. After about three to six months, the integration should be finished and a permanent dental crown or dental bridge will be placed onto the anchor. The new restoration (crown or bridge) is custom-designed and color-tinted to match the surrounding teeth, giving you a natural-looking result that can feel and function like your original tooth.
Dental Implants for Denture Wearers
If you are a denture wearer, you may be a candidate for the minimally invasive mini-dental implant procedure. Like full dental implants, mini-dental implants consist of a tiny titanium rod designed to mimic a natural tooth root and provide support for a restoration. Instead of being anchored in the jawbone, however, mini-dental implants are secured in the gumline, making treatment less invasive. Once in place, mini-dental implants can be affixed to full or partial dentures, providing much needed stabilization and reducing several other issues often associated with denture wear. Please visit our mini-dental implants page for additional information.
Dental Implant FAQs
What exactly are dental implants?
While it is often used to describe the entire restoration, the name "dental implant" actually refers to the small titanium rod that is placed in the area of the missing tooth. Once fused to the jawbone, this rod acts as a tooth root and anchors the crown or bridge that is fixed on top. The final result is a restoration that both looks and functions like natural teeth.
Is any additional maintenance necessary?
Once the final crown or bridge is placed to complete treatment, dental implants should not require any extra maintenance aside from regular brushing, flossing, and routine dental cleanings. Although the implant and restoration will not decay or stain over time like natural teeth, practicing good oral hygiene habits is essential to keeping surrounding supportive structures like gum and bone tissue as healthy as possible for long-lasting results.
How long do dental implants last?
When correctly placed and properly cared for, dental implants can be incredibly long-lasting. In fact, once it fuses to the jawbone, the implant itself actually becomes a permanent part of the mouth. The dental crown or bridge secured to the tip of the implant can also last several years—sometimes decades—when good oral hygiene habits are maintained.
Are there any alternatives to dental implants if I'm not a good candidate?
A significant portion of our practice is dedicated to the restoration or replacement of damaged or missing teeth with advanced treatment options. For patients who are not good candidates for dental implants, mini dental implants can be a less invasive solution for replacing missing teeth or securing dentures, dental crowns and bridges (without the support of implants) can replace one or multiple teeth, and tooth-colored fillings can help repair damage or decay in teeth that may not require extraction.
If you have any more questions, or to find out if you are a good candidate for dental implants, we invite you to contact us to arrange a consultation with our expert team of dentists. After evaluating your unique situation, they can guide you to the option best-suited for your needs.