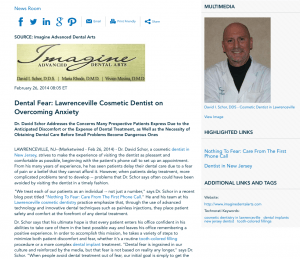 Dr. David Schor addresses the concerns many prospective patients express due to the anticipated discomfort or the expense of dental treatment, as well as the necessity of obtaining dental care before small problems become dangerous ones.
Lawrenceville, NJ – Dr. David Schor, a cosmetic dentist in New Jersey, strives to make the experience of visiting the dentist as pleasant and comfortable as possible, beginning with the patient's phone call to set up an appointment. From his many years of experience, he has seen patients delay their dental care due to a fear of pain or a belief that they cannot afford it. However, when patients delay treatment, more complicated problems tend to develop – problems that Dr. Schor says often could have been avoided by visiting the dentist in a timely fashion.
"We treat each of our patients as an individual – not just a number," says Dr. Schor in a recent blog post titled "Nothing To Fear: Care From The First Phone Call." He and his team at his Lawrenceville cosmetic dentistry practice emphasize that, through the use of advanced technology and innovative dental techniques such as painless injections, they place patient safety and comfort at the forefront of any dental treatment.
Dr. Schor says that his ultimate hope is that every patient enters his office confident in his abilities to take care of them in the best possible way and leaves his office remembering a positive experience. In order to accomplish this mission, he takes a variety of steps to minimize both patient discomfort and fear, whether it's a routine tooth-colored filling procedure or a more complex dental implant treatment. "Dental fear is ingrained in our culture and reinforced by the media, but that fear is not based on reality any longer," says Dr. Schor. "When people avoid dental treatment out of fear, our initial goal is simply to get the patient into the office."
According to Dr. Schor, some patients fear the cost of dental treatment most of all. "People may feel embarrassed because they do not believe they can afford treatment, but we can often make treatment more affordable with available financing options and other payment plans." He says the staff at Imagine Advanced Dental Arts works diligently to develop customized treatment plans that fit within their patients' budgets, and the practice accepts a range of insurance plans.
Whether a patient's dental anxiety is based in a common fear of dental work or the potential expense of treatment. Dr. Schor says there are now numerous options to help an individual overcome these fears and obtain the treatment they need. He says this can be incredibly important to ensure a minor problem doesn't develop into something more complex.
About David I. Schor, DDS

Dr. Schor serves as a Fellow of the Academy of General Dentistry, chairman of the Mercer Dental Society Peer Review Board, and a member of the American Academy of Cosmetic Dentistry. He is one of only 350 doctors worldwide who is board-certified by the American Board of Orofacial Pain. Dr. Schor is available for an interview upon request.
For more information about Dr. Schor and his practice, Imagine Advanced Dental Arts, visit imaginedentalarts.com and facebook.com/ImagineAdvancedDentalArts.
Contact:
Imagine Advanced Dental Arts
3100 Princeton Pike, Building 2
Lawrenceville, NJ 08648
(609) 948-3046
Rosemont Media
tom@rosemontmedia.com
(858) 200-0044
www.rosemontmedia.com