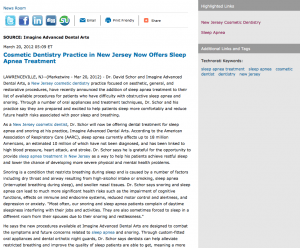 Lawrenceville, NJ — Dr. David Schor and Imagine Advanced Dental Arts, a New Jersey cosmetic dentistry practice focused on aesthetic, general, and restorative procedures, have recently announced the addition of sleep apnea treatment to their list of available procedures for patients who have difficulty with obstructive sleep apnea and snoring. Through a number of oral appliances and treatment techniques, Dr. Schor and his practice say they are prepared and excited to help patients sleep more comfortably and reduce future health risks associated with poor sleep and breathing.
As a New Jersey cosmetic dentist, Dr. Schor will now be offering dental treatment for sleep apnea and snoring at his practice, Imagine Advanced Dental Arts. According to the American Association of Respiratory Care (AARC), sleep apnea currently affects up to 18 million Americans, an estimated 10 million of which have not been diagnosed, and has been linked to high blood pressure, heart attack, and stroke. Dr. Schor says he is grateful for the opportunity to provide sleep apnea treatment in New Jersey as a way to help his patients achieve restful sleep and lower the chance of developing more severe physical and mental health problems.
Snoring is a condition that restricts breathing during sleep and is caused by a number of factors including dry throat and airway resulting from high-alcohol intake or smoking, sleep apnea (interrupted breathing during sleep), and swollen nasal tissues. Dr. Schor says snoring and sleep apnea can lead to much more significant health risks such as the impairment of cognitive functions, effects on immune and endocrine systems, reduced motor control and alertness, and depression or anxiety. "Most often, our snoring and sleep apnea patients complain of daytime sleepiness interfering with their jobs and activities. They are also sometimes forced to sleep in a different room from their spouses due to their snoring and restlessness."
He says the new procedures available at Imagine Advanced Dental Arts are designed to combat the symptoms and future concerns related to sleep apnea and snoring. Through custom-fitted oral appliances and dental orthotic night guards, Dr. Schor says dentists can help alleviate restricted breathing and improve the quality of sleep patients are able to get, meaning a more rejuvenated, healthy daily life.
As with any medical procedure, Dr. Schor says he strongly recommends patients consult with an experienced and qualified dental practice before undergoing treatment of any kind. He adds that he hopes the availability of sleep dentistry treatment at his practice will allow him to address even more of his patients concerns and help them achieve more comfortable, restful sleep.
About David I. Schor, DDS
Dr. David Schor serves as Chairman of the Mercer Dental Society Peer Review Board and a member of the American Academy of Cosmetic Dentistry. He is also a Fellow of the Academy of General Dentistry, an achievement earned by less than three percent of American dentists. Dr. Schor is also board-certified by the American Board of Orofacial Pain in the non-surgical treatment of TMJ disorder and orofacial pain.
Located at 3100 Princeton Pike, Building 2 in Lawrenceville, NJ, Imagine Advanced Dental Arts can be reached at (609) 948-3046. It can also be contacted online via the website imaginedentalarts.com or facebook.com/ImagineAdvancedDentalArts.
Contact:
Rosemont Media
Aaron Hurst
aaron@rosemontmedia.com
(858) 200-0044
www.rosemontmedia.com
###