Imagine Advanced Dental Arts is now offering the latest innovation in mouth protection for athletes to support their mouth piece and mouth guard needs. With the addition of Under Armour Performance Mouthwear™, Dr. Schor, Dr. Rhode, and Dr. Mesina can offer proactive protection for their patients. Powered by Armourbite™ technology, the custom-built, scientifically-proven performance mouthwear can make athletes stronger, faster, and better.
The Must See Video
How it works
By preventing teeth clenching, the ArmourBite™ technology relieves pressure on the patient's teeth and jaw, which allows for better athletic performance. For Dr. Schor however, protection is his top concern. As a natural reaction to sports activities, the jaw pivots forward, causing damage to teeth, and possibly leading to TMJ disorder. The Under Armour Mouthwear™ alleviates a majority of the pressure on the temporomandibular joint, thus limiting the release of hormones that cause fatigue and distraction.
The Fitting Process
The patented technology is fitted in a three-step process. An impression of our patient's teeth is taken in the dental office to provide a custom-fit. Then the impression is sent to a lab that specializes in making the impression into a sport-guard. Finally, the patient will return to the office for the final fitting, and leave with the Under Armour Performance Sport Mouthwear™, prepared for any sporting activity.
Performance Benefits
While the mouth guard is designed to protect an athlete's mouth and teeth, it may also enhance an athlete's performance. Recent statistics in studies conducted by Under Armour show that the mouthwear products can increase endurance, speed up reaction time, reduce athletic stress, and diminish the G-Force impact from blows to the jaw. Whether patients are looking to protect their teeth in contact sports like lacrosse or football, or reduce stress during activities like pilates or yoga, the Under Armour Performance Mouthwear™ can be an excellent addition to each of our athletic patient's needs.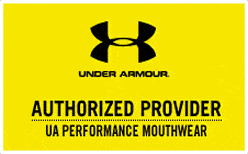 As an authorized provider of Under Armour's Performance Mouthwear™, Imagine Advanced Dental Arts is the exclusive provider in Lawrenceville, New Jersey for this revolutionary new technology in mouth protection. As a leader in the innovative dental environment, Dr. Schor is further supporting the varied needs of his patients, while providing additional protection for their teeth.
To learn more, or to schedule your fitting for the Under Armour Performance Sport Mouthwear™, contact Imagine Advanced Dental Arts today.