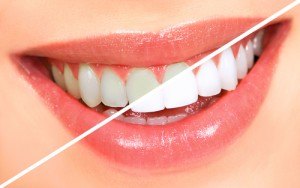 Following in-office Zoom!® teeth whitening treatments here at Imagine Advanced Dental Arts, you can generally expect to see lasting results for six to twelve months, depending on your personal habits. For example, if you drink a lot of coffee, tea, or red wine, or if your diet consists of high-staining foods like blueberries and blackberries, you may begin to notice yellowing and/or other tooth discolorations much quicker. Smoking may also cause staining to occur faster than normal. As a result, it's important to pay close attention to your diet, as well as your oral hygiene.
Additional factors that can influence the longevity of your teeth whitening results include careful maintenance and regular at-home touch-up treatments. To help with this, our practice offers an at-home Zoom®! treatment that enables you to continue the whitening process at your own convenience. This advanced method consists of a personalized take-home kit that includes touch-up gel and customized whitening trays that are to be worn for brief periods of time during the day or at night, based on your unique needs. Following these at-home treatments, you'll need to avoid anything that may stain your teeth for at least 45 minutes to obtain optimal outcomes, so wait on that cup of coffee! At your six-month return appointment to our office, whitening gel refills for your take-home kit are available.
Ultimately, the effects of teeth whitening will vary by individual, but the best advice we can give for prolonging your results is to be cognizant of what you eat and drink, maintain proper oral hygiene habits, and employ/receive routine touch-up treatments as recommended by your dentist.
Contact Our Office
If you have any additional questions, or if you would like to schedule an appointment with one of our experienced dentists, please contact us today.